Escape to the Big Easy - NEW ORLEANS!
Oh New Orleans, how I love thee. 😍The music, the art, the architecture, THE FOOD. It is one of my favorite places to visit. I must admit, NoLa has not always been good to me. There was "The Stolen Backpack Incident" in 2015, "The Great Jell-o Shot Blackout of 2016" (hey it happens to the best of us), a very dramatic birthday also in 2016, and I'll never forget the food poisoning from hell in 2017. You see, New Orleans and I have a very tumultuous relationship. Perhaps I'm a masochist but I think I just choose to see the best in everyone.
This time around was going to be different. It was just my boyfriend and I. No work, all play. We (gasp!) PACED OURSELVES when it came to drinking. We walked nearly 7 miles a day and ate the best food we could find. There was shopping, partying, relaxing, and a lot of laughing.
We arrived in New Orleans on a Tuesday night and jumped in a Lyft to head to our hotel The Royal Sonesta New Orleans in the French Quarter. Not only was the hotel conveniently situated on Bourbon Street, but it was breathtakingly beautiful. It smelled so refreshing as soon as you walk in, partly due to the fresh flowers throughout. That may seem like a small detail, but if you've ever walked Bourbon Street then you know how.... fragrant it can be. The Royal Sonesta was quite literally, a breath of fresh air.
We got checked in with record speed and dropped our things off in the room. I loved the french doors leading out to the pool area! It was nice to wake up to yummy breakfast, a pretty view, and fresh air every morning.
Check out the gallery below for more photos of this impressive hotel! If you want to see the photos I took on one of their amazing balconies, click here!
The first night we decided to do a little bar crawl. We started near the hotel having one or two drinks per bar, heading towards the other end of the strip. One of our favorite bars is the Lafitte's Blacksmith Bar on the far end of Bourbon. It's the oldest bar, like, ever! Literally. Pretty sure it's haunted too. 😱
The next morning we had breakfast in the hotel then set off for Frenchmen St. If you've never been to New Orleans I highly recommend spending some time on Frenchmen. Locals will tell you that it's THEIR Bourbon St. Every bar has an amazing band playing, good priced drinks, and most have great food as well. I had a shrimp po' boy and was NOT disappointed. Check out some of the film photos I took that day, below.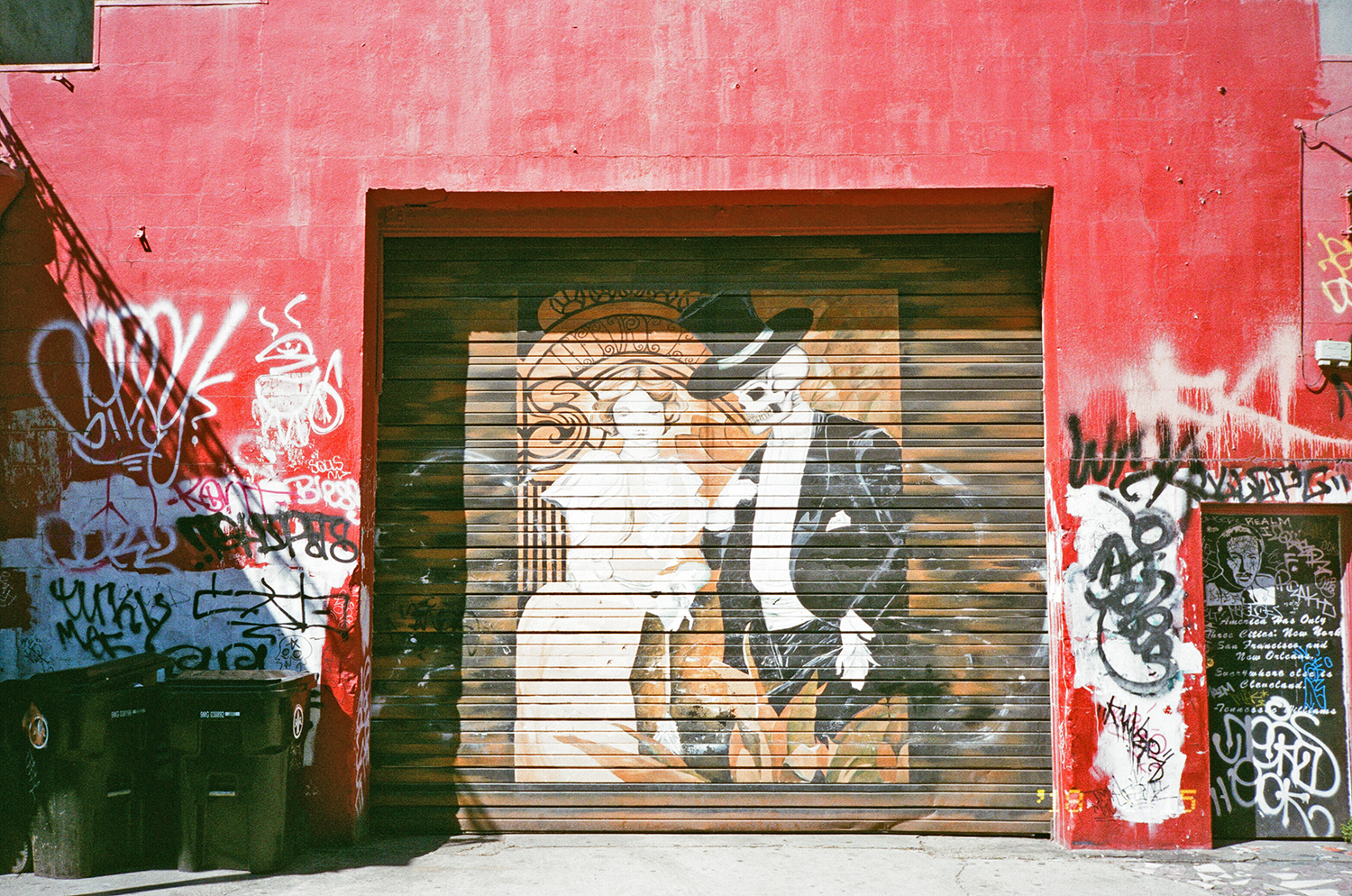 In the past when Mike and I have visited NoLa together he's usually been on tour so we never had a chance to see some of the "sights" together. I led him on a mini tour of some of my favorite spots, telling him the spooky stories I've learned that accompany them. The Lafayette Cemetery was a top destination followed by some shopping, a trip down Magazine St., and finally it was time to get ready for the evening.
We had dinner that night at Muriel's in Jackson Square. I had learned on ghost tour during a previous trip that this restaurant was haunted AF! Read about their ghost here. They literally set him a dinner table every single night. Isn't that wild?? Unfortunately there were no ghost sightings that night but the dinner was really yummy regardless! After dinner, we snuck over to our favorite bar in the French Quarter - The Bombay Club. Now listen, this bar is a secret. Let's keep it between us ok? Best food, drinks, and jazz music in the French Quarter. It's super low key inside and decorated like a cozy library or den. We decided to endulge ourselves a bit and tried some Louis XIII! At $150 per ounce, this stuff is no joke! It's a blend of cognac's that range from 40-100 years old. It tasted... like heaven. Sweet & warm, it melted in my mouth. If the bottle wasn't $5000 I'd consider having some at home, haha. Finally it was time for our comedy show. We bought tickets to see Joe Rogan at a nearby theater and he did not disappoint. We are huge fans of his podcast and the stand up was just as good!
Friday was our last full day in town. We did a lot of relaxing, not gonna lie. The pool was too inviting. While it wasn't quite warm enough to get in, it was nice to lay out a bit when the sun was out. We did some shopping closer to their financial district and found some great stuff. Be sure to check out Sneaker Politics if you like sneakers and streetwear. They had a great selection and I picked myself up a pair of blue converse from the Golf Wang collaboration. Defend New Orleans is another favorite. They had a great mixture of new & vintage along with gifts & housewares. We made to sure stop by Cafe du Monde because we couldn't leave without a beignet!
Saturday morning and it's time to go. Vacationing is always fun, but there's something special about sleeping in your own bed after a trip. Special thanks to Royal Sonesta for the wonderful hospitality and for providing us with accommodations. I would highly recommend staying here if you plan to visit! I'll wrap this up with a few more miscellaneous photos I took and with that, goodbye!
xoxo, Alysha